Product Description
Wood Grain Aromatherapy Essential Oil Aroma Diffuser Speaker
[Bluetooth Speaker Insert]: Uses Smart Bluetooth accessibility to play your personal list of favorite Music or Audiobooks. Perfect for Yoga, Meditation or Ambient Music. The simplest and easiest set-up in the market available for your Bluetooth Diffuser. (Plug in, Sync And Go!)
[Advanced Ultrasonic Nebulizing]: Its ultrasonic technology can secondbreaks any mixture of essential oils and water into millions of microparticles without using heat (heat destroys the ingredient of essential oils), disperses them into the air, and releases the constituents found in essential oils.
[Benifit from Natural Essential Oil]: Ultrasonic Diffusers for essential oils gives out ultra-fine and smooth mist which can soften and moisten the dry and chapped skin, fresh air, clear odor, reduce radiation, relieve fatigue, create a quiet and warm atmosphere for you, help you benefit from fragrance healing.
[All-In-One Design]: All-In-One Wood Grain Diffuser that combines Aromatherapy, LED light/nightlight and Bluetooth Music Player.It holds 300ML of water and produce up to 30ml-80ml of moisture per hour. It can run up 7-8 hours of continuous output. 7 different LED light colors,safety auto-switch that prevents it from overheating in case it runs out of water.
[Risk-Free at Dituo]At Dituo, we have great faith in our wood diffusers. After all, your essential oil is precious! Each one of them comes with a 1-year warranty guarantee. If you have any issue with your home diffuser, do not hesitate to contact us - your satisfaction is paramount!
Essential Oil Aroma Diffuser Pictures: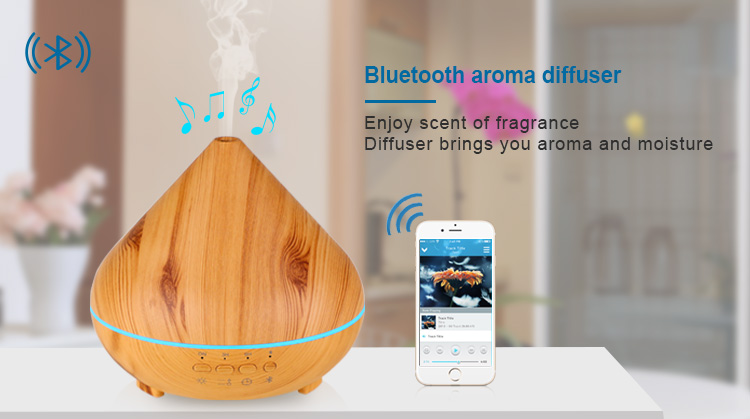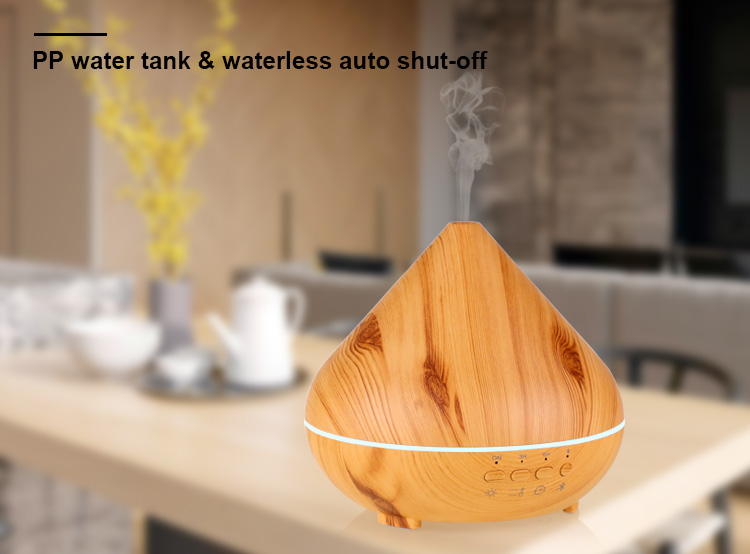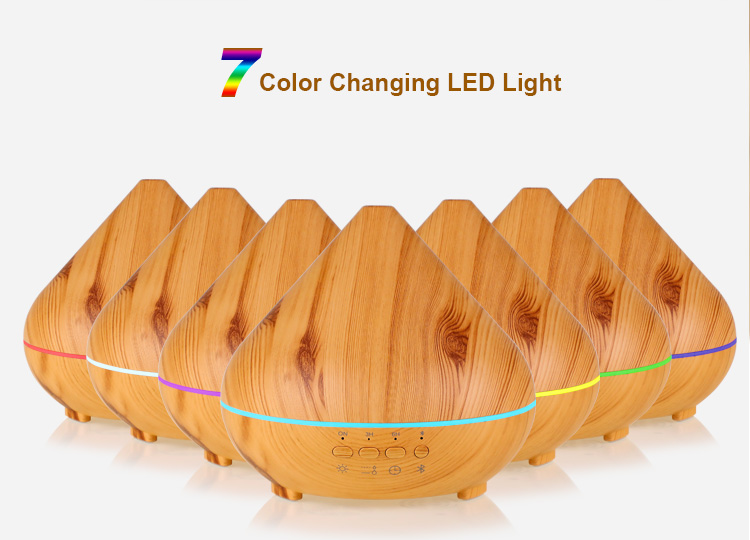 Aromatherapy Essential Oil Diffuser Operation: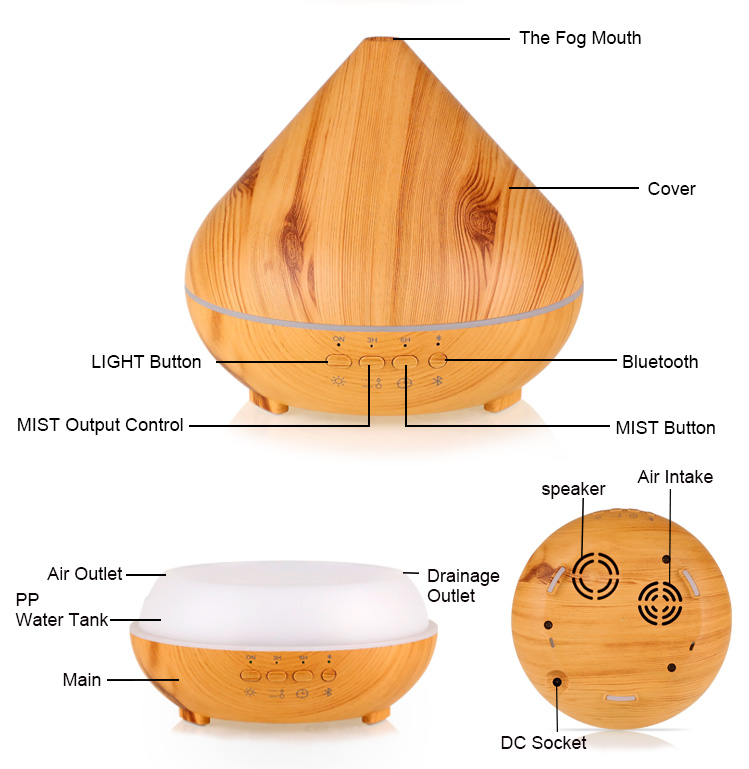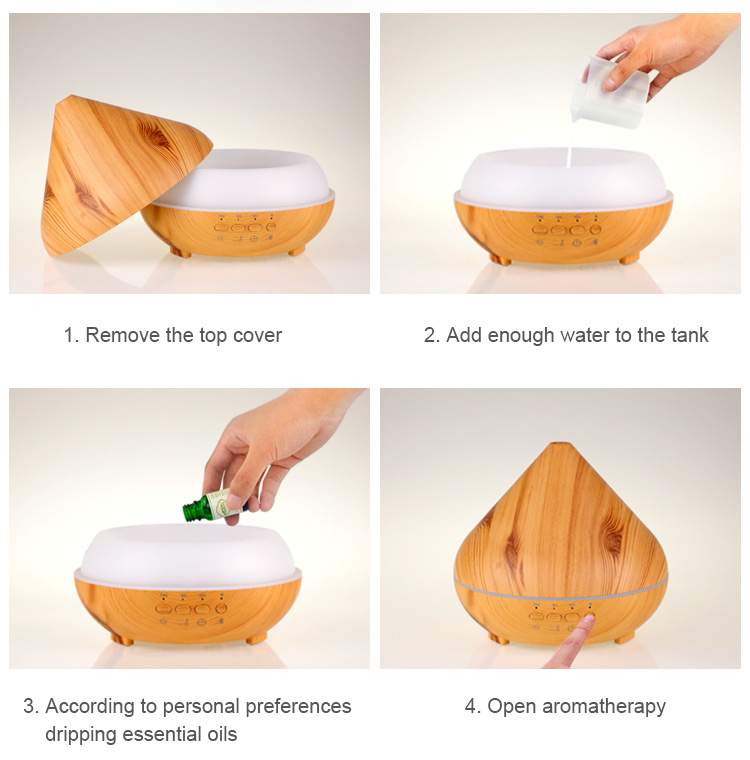 Aromatherapy Essential Oil Aroma Diffuser Application: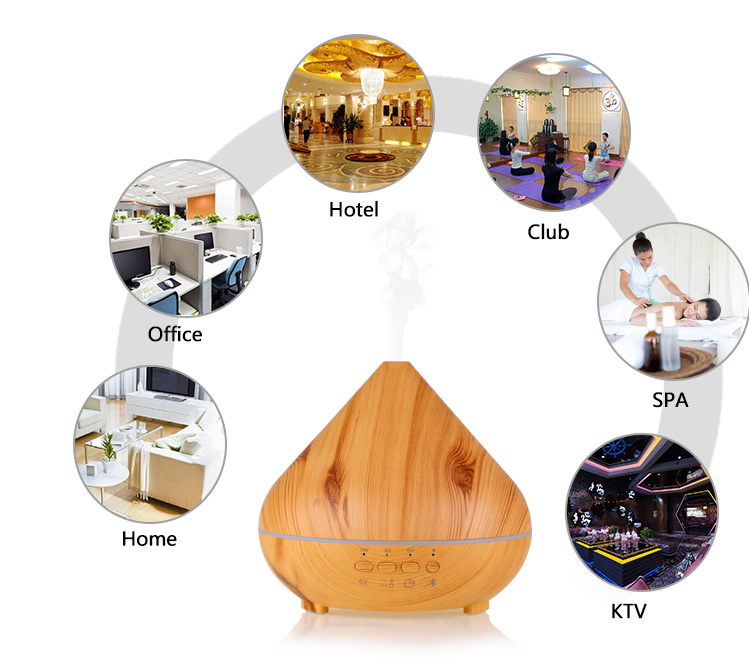 Note:
1. Please chose the Water-Soluble Essential Oils for better experience.
2. To much water may lead to little mist. Please do not add water over MAX line.
3. This is an essential oil diffuser, but you also can use it as a humidifier if you like.